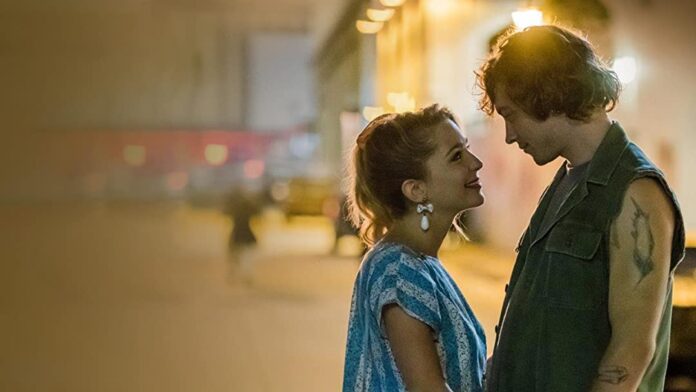 The original Valley Girl of 1983 is best remembered nowadays as that time Nicolas Cage was a teen heartthrob, the edgy guy who teaches the shallow valley girl to expand her horizons. But at the time it was quite groundbreaking, combining new wave music and teen problems in a way that would set the standard for generations. Glee probably wouldn't exist if there was no Valley Girl, no High School Musical, and many others. And certainly, there wouldn't be this modern remake by director Rachel Lee Goldenberg, which takes a bitchin' soundtrack and stellar cast to create something that is like totally grody.
Valley Girl starts out promisingly, though, with a storybook conceit straight out of The Princess Bride. Julie (Alicia Silverstone, once the ultimate val gal of the '90s in Clueless), helps her teen daughter (Camila Morrone) deal with a bad break-up with a story of her first love in the 1980s.  The film quickly brightens up, hot pinks, wild hair, and a sugar-coated dreamland where singing your feelings is the norm. It's a brilliant way to play up the corny nostalgia of the time by presenting them as mom's old memories, "That's how I remember it!" she says, as her daughter warns against too much hot pink in the story.
Teenage Julie isn't completely happy with her life in the San Fernando Valley. Although she has a core group of friends (including Agents of SHIELD's Chloe Bennet, Riverdale's Ashleigh Murray, and Better Caul Saul's Jessie Ennis) who are just as obsessed with clothes, guys, and Madonna, Julie has an independent streak the others lack. She doesn't totally fit into that world, but perhaps punk rock bad boy Randy (Josh Whitehouse) can show her there's more to life? They hit it off quickly, and the film speeds through a bevy of era-specific classics to show their growing relationship, even while acknowledging the problems that come with first love.
Right away, the problem with Valley Girl becomes pretty clear. Talented actors does not automatically mean talented singers or dancers, as a flat shopping mall performance of "We Got the Beat" tells us. A beachside rendition of "Girls Just Want to Have Fun" doesn't fare much better, and two lousy karaoke-level attempts at what should be easy layup songs…it doesn't bode well for the rest of the movie.
Fun performances, bouncy atmosphere, and songs good enough to sing-a-long too should be cake for a movie like Valley Girl. Oddly enough, it's best when the actors aren't belting out tunes. Rothe and Whitehouse have chemistry that's different than Nic Cage and Deborah Foreman (who has a very tiny cameo) from the original. Whitehouse is more upbeat than the brooding Cage, while Rothe brings the sarcastic, feminist energy she brought to Happy Death Day. The addition of Mae Whitman, in a gender-flipped role as Randy's lesbian best friend and bandmate, adds diversity that was lacking in the earlier movie. Casting all around is great, but the choreography is surprisingly bland. Valley Girl repeatedly whiffs on the simple stuff; a roller skating sequence set to Men Without Hats' "The Safety Dance" falls way short. Much better is an ensemble take on "Under Pressure" which melds all of the various storylines as characters prepare for an epic prom night that will change their lives.
Despite a collection of nostalgic jams and a talented roster of rising stars, Valley Girl can't escape the shadow of its predecessor. As a jukebox musical it might work for those who don't have a deep affection for the original, and don't mind bad covers of some of the era's defining hits.