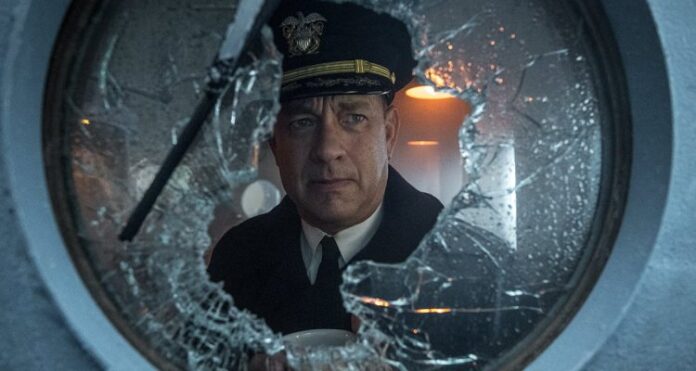 The streaming wars have quickly led to some big money being thrown around for top-tier productions with big stars. While they aren't drawing quite the buzz as others, Apple TV+ has been pretty busy with acquisitions, and they've just paid a hefty sum for Tom Hanks' upcoming war movie, Greyhound.
Previously set to be released theatrically by Sony on Father's Day weekend, Greyound will instead go exclusively to Apple TV+. Apple dropped a whopping $70M for the film, which Hanks both wrote and will star in as Ernest Krause, first-time US Navy commander whose ship is attacked by submarines during the WWII Battle of the Atlantic. Aaron Schneider (Get Low) is director, with a cast that includes Rob Morgan, Elisabeth Shue, and Stephen Graham.
The film had been shot in 2018 and originally pegged to hit theaters last year. It was delayed until May of this year, and then moved to June before the coronavirus screwed that up. Sony, looking to unload the expensive movie, found a willing buyer in Apple TV+ who are in need of as much content as they can get. It's unclear when Greyhound will be released but expect it to be soon.