If you're a hormonal teenager staring at an uncertain post-high school future, dealing with an overprotective father (who also happens to work at your school), and coping with an arrogant ex you still carry a flame for, EVERYTHING seems like the end of the world. So what happens when the actual end of the world arrives? Well, in John McPhail's riotous, gory, and poignant Anna and the Apocalypse, what you do is SING!! Sing it loud and let the blood spray!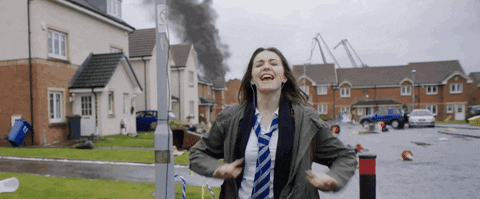 With so much going on in young Anna's (played by Ella Hunt) life it's totally okay that she sings and dances through her Scottish neighborhood of Little Haven, while the zombie apocalypse has consumed nearly everyone she knows. Whoever said this generation is totally self-involved may just have a point. Anna's problems are no different than what you'll find in a million other teen comedies. Her dorky best friend John totally carries a torch for her, but Anna is looking forward to traveling the world during a gap year before college. That little tidbit of information was not welcome news to her father, the school janitor. Meanwhile, there's an appropriately named school principal, Mr. Savage (Paul Kaye), who is ruining everyone's lives, including that of Anna's rebellious friend Steph (Sarah Swire), who has her own family troubles to deal with during the Christmas holiday. Throw in the bullying ex, the high school sweethearts, and even a school play, you'd be forgiven for thinking this was well-worn territory.
But once these kids, who are mostly unknown actors here in the States, start belting out full-throated anthems about love, empowerment, fear, and rage, Anna and the Apocalypse becomes something more. While each toe-tapping harmony is enough to get you up out of your seat, there's an edge of tragedy heard in the swinging (and prescient) "Not a Hollywood Ending", as the students acknowledge that their lives aren't something from out of a Disney movie. Things are already tough before zombies start chomping on their loved ones. When the undead do start walking the Earth, McPhail doesn't lose sight of who these characters are. Sure, there's fun to be had by zombies in snowman outfits and ugly Christmas sweaters, but it's also grotesque as the kids are practically bathed in blood just to fight for their own survival. And when people die, and trust me some unexpected characters do bite it (literally), it's meant to be tragic. We're not supposed to forget that these are young lives snuffed out well before their time, and it is heartbreaking. These are still kids, though, and their emotions run wild like a zombie that has caught the scent of brains. Their sense of humor is equally immature at times, like joking over Justin Bieber's becoming a zombie while Robert Downey Jr. is safe at home in his Jacuzzi thanks to that Iron Man money. But Heaven forbid you even bring up that Taylor Swift might have been turned, that's going too far over the line! And Ryan Gosling? Well, he's just plain cool, alive or undead.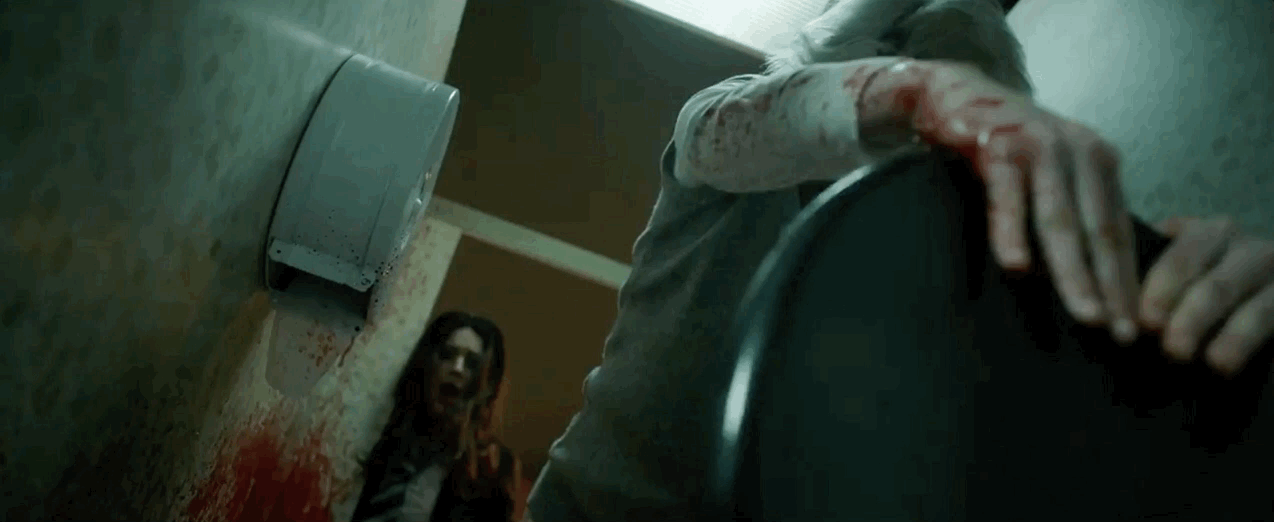 The tone can get a bit jarring, though. That happens when one second you've got a pair of students dressed as penguins performing a rap about their favorite fish, then the next there's an uncomfortably sexy rendition of "Santa Baby" that drives Savage insane, only to be followed by Anna beating up zombies with bowling balls and giant candy canes. McPhail doesn't always succeed in making the stakes as critical as they need to be, but he and the cast have a bloody good time trying. There will be easy comparisons to Shaun of the Dead and I think there are more than a few nods to that great Cornetto flick, but Anna and the Apocalypse has a chance to be both a cult favorite and an annual holiday tradition.
Rating: 3.5 out of 5