There's a lot to love about Kenneth Branagh's handsome but slightly messy adaptation of Agatha Christie's 1934 mystery,
Murder On the Orient Express
. Lushly detailed, as much in production value as with the beautifully-assembled cast, the film is gorgeous to look at from start to finish; as elegant as the dainty morsels of food served in the titular train's dining car. And while it helps if you've never read Christie's story before, even those who have will come away hoping to see more of Branagh as the thickly-mustachioed detective, Hercule Poirot.
With a mustache as thick as a lion's mane, Branagh devours the role of Poirot, a perfectionist in the art of deductive reasoning. Well, a perfectionist in all things, really. Heaven forbid you come at him wearing a crooked tie. He needs everything to be so perfectly in balance he'd rather step in manure with both feet just to stay even. Branagh, pulling double duty as director and star, is clearly having a ball in his attempt to revitalize a very old fashioned style of whodunit. Hollywood doesn't make these kinds of movies anymore, really not since
Clue
parodied them so well back in the '80s. I think we could do with seeing a few more.
Given contemporary polish and energy that separates it from the 1974 film adaptation led by Albert Finney, Branagh's version opens in Jerusalem as Poirot uses his superhuman deductive skills to discover the thief of a precious artifact. It clues us in to his meticulous nature, but also the weight his name carries around the world. In need of some R&R, Poirot boards a train headed to Calais, only to find that his hopes of relaxing with a good book by Charles Dickens are not to be. The train is not only stalled due to a snowy avalanche of
Snowpiercer
proportions, but a passenger is murdered during the night. Of course, the only one who can solve the case is the world's greatest detective himself.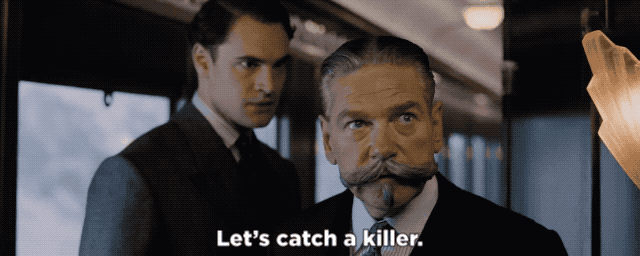 Originally set to star Angelina Jolie as one of the color array of suspects, Branagh acquitted himself quite well in casting Johnny Depp as a crooked gangster who sells expensive fake artifacts, Michelle Pfeiffer as a cougar on the hunt, Leslie Odom Jr. as a respected doctor, Daisy Ridley as a proud governess, Judi Dench as a royal blue blood with an attitude, Willem Dafoe as an Austrian professor with Nazi ideology, Josh Gad and Derek Jacobi as the gangster's assistants, plus Sergei Polunin and Lucy Boynton as an ass-kicking count and drug addicted countess. Poirot sets upon them with boyish vigor, and a large part of the film's fun are his methods of interrogation, playing on each of their character flaws.
As enjoyable as Branagh's performance is, most of the star-studded group play their roles too close to the vest. Granted there is a reason for it, this is a story in which everyone has a secret, but it becomes a drag when Poirot's investigation shifts from who did it to about motive, which is considerably darker and sloppily handled. And while there are occasional excursions away from the train's dull passenger cars, it remains a largely stationary experience that isn't always so exciting.
While there is plenty of Poirot to go around elsewhere, from the 1974 movie to the long-running TV series that your parents might still watch on PBS, Branagh's
Murder On the Orient Express
does manage to set itself apart. If he decides to bring the detective back for another case that would be a ride worth booking passage on.