Pixar couldn't have known what a mega fan I am of 2014's amazing Mexican animated film,
The Book of Life
. Frankly, it should have won Best Animated Feature that year, straight up. So Pixar couldn't have known that I'd be comparing the similar
Coco
to it from frame one to the closing mariachi number. The two films share a lot in common; both are steeped in a deep love for Mexican culture, music, mythology, and respect for tradition, and how that tradition must sometimes be broken to follow one's dreams. Most importantly, both movies have this magical ability to whisk you away to a place where the dead lead the most colorful of (after)lives. They explore the topic of death in a soulful, funny way that will absolutely melt your heart.
I'll let the comparisons end there, because
Coco
, the 19th feature film from Pixar, stands as one of the studio's absolute best. Directed by Lee Unkrich, who made us believe our toys have lives of their own with
Toy Story 3
, and co-directed by Adrian Molina,
Coco
is ironically a refreshing and daring break from tradition. What is undeniable from the start is that this is unabashedly a Mexican movie. It's so Mexican, Donald Trump wants to deport it. And there's something cool about having a mainstream, family-friendly film like this out there right now, undoing some of the damage done by heated political rhetoric about an entire group of people who are just like us.
The film follows 12-year-old Miguel Rivera (Anthony Gonzalez), whose sole dream in life is to be a musician in the image of his idol, Ernesto de la Cruz (Benjamin Bratt). A local legend with statues in his honor and his iconic skull-shaped guitar kept as a monument, de la Cruz makes for a troublesome hero for Miguel to have. Told effectively through flashback and vibrant cutout images, the Rivera have outright banned all music from their family, due to the actions of Miguel's great great grandfather who abandoned them all a generation before. In the house ofrenda (an altar used for worship) where pictures of the family's deceased stand so their spirits can visit on Dia de los Muertos, the Day of the Dead, this shunned patriarch's image is nowhere to be found. He is to be forgotten utterly, and music right along with him.
Determined by a newfound revelation, the first of many that leads to some genuinely surprising twists, Miguel decides to perform at the annual talent contest held on the Day of the Dead. But that's not before he's confronted by his family, who absolutely forbid it and destroy his guitar. Out of anger he refuses to be part of the family, and instead steals de la Cruz's guitar from the memorial. From the moment he plays it Miguel is cursed, and is shunted off to the Land of the Dead, a place that makes purgatory as a skeletal apparition seem pretty sweet. Basically, it's a lot like our world, only it glows with the energy of the spirit realm. And these spirits, they exist only through the memories of their loved ones in the real world.
You can imagine how integral that last point comes to mean in a movie that is about appreciation of the important things in life. Coco is full of little messages that aren't completely foreign to Pixar, but we've never seen them presented alongside such ethnic cultural specificity. Pixar's confidence they got it right down to the last detail was shown by the film's early premiere in Mexico, and subsequent shattering of their box office records. Unkrich fills the screen with beautiful designs representing the Day of the Dead, from the rainbow-colored spirit animal guides to the painted facial masks to the decorative papal picados. There's so much going on in every shot that it's impossible to catch it all, like the number of references to Mexican celebrities from the past, especially artist Frida Kahlo who has become a popular Day of the Dead effigy.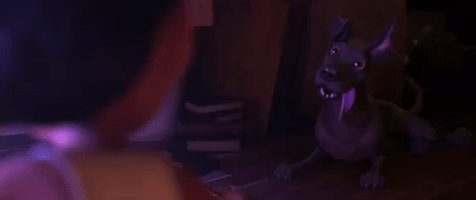 Soon after Miguel arrives in the Land of the Dead, he and his loyal street pup (and movie mascot) Dante join with the desperate spirit Hector (Gael Garcia Bernal) on a mutually-beneficial quest. That journey is pretty standard by Pixar means; they've done the mismatched adventure story so often it feels like they can do it in their sleep. And while that familiarity leads to some complacency with the story, Unkrich and Molina shock you by making
Coco
about so much more than just a simple return to the land of the living. By expanding in scope, and touching on hurdles all families must face in their own time,
Coco
shows how all of us are alike regardless of our ethnic backgrounds. The final moments, joyously plucked to the strings of a guitar, are guaranteed to strum a few heartstrings, as well.