Last year's
Bad Moms
was a breath of fresh air to overworked mommies looking to see themselves represented on the big screen, and it was pretty funny, too. Who cares that it was written and directed by a couple of dudes,
The Hangover
scribes Jon Lucas and Scott Moore? It worked because the central trio of Mila Kunis, Kristen Bell, and the hilarious Kathryn Hahn were as unleashed as any Wolfpack, and their suburban war against extreme parenting struck a chord. While a
Bad Dads
movie was considered and, thankfully, vetoed (Talk about missing the point!), the decision was made to attack another societal institution with
A Bad Moms Christmas
, but this sequel is no holiday gift under the tree.
Like comedy sequels set in Las Vegas, Christmas sequels tend to be pretty terrible (Excuse me if I accidentally refer to this as
A Very Brady Christmas
), and A Bad Moms Christmas is no exception. The unrealistic expectations of motherhood get cranked up to eleven when the holiday rolls around, the "Super Bowl" for moms, and Amy (Kunis), Kiki (Bell), and Carla (Hahn) are fed up with trying to make everything perfect. Yeah, who wants a perfect Christmas?? Fight fight fight! Adding stress to the yuletide proceedings are the sudden arrivals of their own moms, which gives you a clue why they're so screwed up. Amy's mother (Christine Baranski) is a perfectionist who spoils her grandkids and throws lavish holiday parties. Kiki's mom (Cheryl Hines) is abnormally close to her daughter, like "watching her sleep" close. And Carla's mom (Susan Sarandon) is a hard-drinkin' gambling addict who spent 15 years as an REO Speedwagon groupie and has no concept of what being a parent is about. The apple, it doesn't fall far.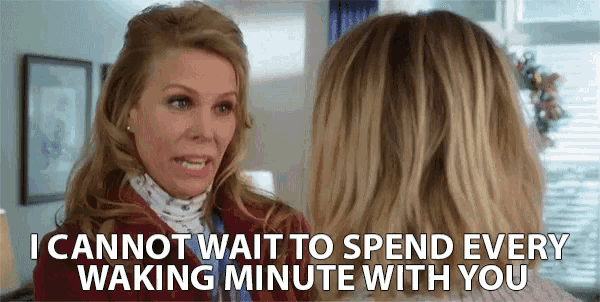 And if you guessed that's the overall message of
A Bad Moms Christmas
, that daughters turn out to be just like their moms, well then serve yourself another helping of egg nog. Conflict erupts between all six women, but the battle royale is between Amy and her mom, who turns up her nose at her daughter's boyfriend Jesse (Jay Hernandez), and dares to throw a huge holiday bash with Kenny G. Oh, the horror! Seriously, this film is in desperate need of antagonists, which was such a big part of how the moms came together in the first place.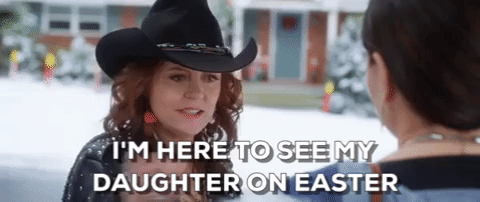 But the biggest problem is that
A Bad Moms Christmas
feels like a retread of the first movie, which was defined by that epic supermarket montage. It was hilarious, so hilarious in fact that we see it revisited at least three times in the sequel, each with diminishing returns. Sure they all take place in different locations (malls, a Skyzone) but it's clear they're just making up for the lack of chemistry the three leads seem to have this time around. It isn't even really the actresses' fault, either; it's a screenplay that is preoccupied with setting up a potential
Bad Grandmoms
spinoff or something, and doing it with jokes that would get rejected by your average sitcom.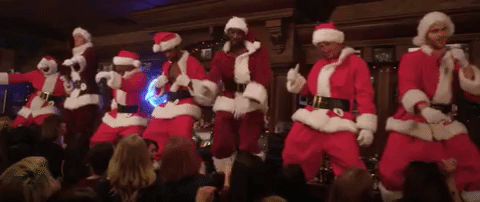 While we used to be able to relate to Amy, Kiki, and Carla, the only one who remains likable at the end of this is Carla, the edgiest of the trio. She also has the best scene by far in the movie, and unsurprisingly it isn't with any of her female co-stars but with
This Is Us'
heartthrob Justin Hartley. He plays a stripper from Cleveland who arrives to get a wax job in the most delicate of places, and it'll make you look at "meet cutes" in an entirely different way. Let's just say their courtship isn't for the kiddies. Short of the numerous times someone says "What in the actual fuck?" (It should be in the tagline), Carla is the most R-rated this move gets. And of course Hahn is terrific in the role, and so is Sarandon as her mother, who may be older but definitely isn't wiser. There's an understanding the two of them come to, that neither of them will ever be perfect mothers, that the other duos simply never achieve in a way that is believable. Amy in particular comes across as pretty awful, and Kiki gets the best verbal smackdown from Wanda Sykes, who as her psychologist says bluntly that she is the reason her mother is so damned messed up.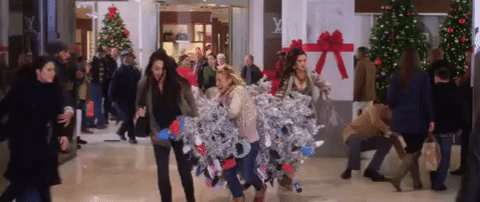 This being a Christmas movie, it naturally devolves into an endless stream of heartfelt monologues, tears, and sappy apologies. As if it wasn't toothless enough already. But hey, this is Christmas; a time for giving, right? And so I feel I'm being generous by saying
A Bad Moms Christmas
is like getting socks as a gift.