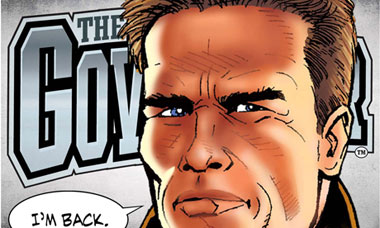 Ever since his disastrous term as governor ended, Arnold Schwarzenegger has been the most popular guy in Hollywood. He's like the new kid at school, everybody wants to be his friend again. Arnie's embraced this new found popularity, announcing at one point that he was packaging a comic book character and had something like a gazillion movie offers he was sifting through. That had guys like me dreaming of sequels to
The Running Man
and
Commando
, but instead we got a piss poor kiddie cartoon
series called The Governator
. Talk about a swift kick in the nads. But it looks like he wasn't totally pulling our chain, as
Variety
reports he's in talks for a pair of possibly awesome action flicks with real people and everything.
The first one has been rumored
about but now given more
credence. Schwarzenegger could be joining
Last Stand
, from visionary South Korean director Kim Ji-Woon(
I Saw the Devil
). The film would put Arnie in the uniform of a small town sheriff who must stop a Mexican drug cartel boss. Liam Neeson had once been attached, but pulled out to take a sabbatical from acting. Kim Ji-Woon is one of the best pure action directors working today, but he's equally adept at black humor. Take a look at his
The Good, The Bad, The Weird
for a chief example. Neither Kim or Schwarzenegger have had a chance to formally meet and discuss the particulars yet, so whether or not this one pans out is anyone's guess. Let's hope so.
The second film he appears to be extremely interested in, even if the premise sounds a little blah.
The Tomb
would be directed by Antoine Fuqua(
Training Day
), and is about a security expert framed for a crime and thrown in a maximum security prison of his own design. While Fuqua and Schwarzenegger have met many times to discuss the film, the major problem appears to be scheduling. Fuqua is prepping his Tupac biopic right now, with plans to shoot this summer. He's also got his
Tang Dynasty historical epic
planned for later this year. That might be too long for Schwarzenegger to wait.
On the one hand I wish we were seeing him revisit some of his old action gems, but it's good that he's considering mostly new stuff as well. Mostly I'm just glad that "He's Back".